Saturday I was sick and feeling very sorry for myself. Nothing too serious, just the kind of sick that really annoys you and make you feel mopey. My usual "I'm sick and grumpy" comfort food is either a big bag of baked chips or a fresh loaf of bread (or both and I am not kidding) and I didn't want to do that.
If one is highly righteous about one's diet, there should be no comfort food whatsoever right? If you aren't hungry, you don't need food. We all know that! Still, sometimes, knowing it doesn't mean a thing, and it's food we want and nothing else. The 2 years old inside just throws a tantrum: "I don't want to be healthy, I want food and I want it now, NA!"  I have been at this long enough to know that sometimes all you can do is pick your battles. If it's food and nothing else, so be it, but I'll be darned if that food is crappy food that I will regret for the rest of the week. With all that in mind, I got a little creative. I dove into my fridge and pantry to see what I could find: Non-fat Greek yogurt, strawberries, bananas, spices, oh look! cereals!
You'll remember my Banana Cream that I love to make regularly, I started with that, added spices, local honey, and then decided to build a parfait out of it!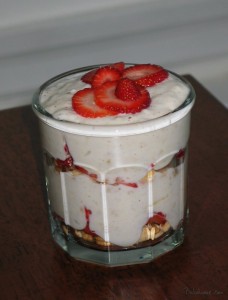 Pretty right? It was also delicious! I totally felt like I spoiled myself and it's loaded with nutritious foods. A win, win and win!
This is pretty much a "to taste" kind of recipe, meaning that there is not set "amount" of anything. It just depends on taste. I made it pretty sweet, because I was hoping the honey would help my throat 😮
Banana Cream Parfait
1 serving
Ingredients
1 medium banana
1/4 – 1/3 cup Non-fat plain Greek Yogurt*
Big pinch (to taste) Pumpkin pie spices
1 tsp (to taste) local honey
1/4 to 1/3 cup your favorite cereals (I used Go lean)
6-8 strawberries, finely chopped (one sliced for garnish!)
Tiny pinch ground clove
Mash the banana with a fork until creamy-chunky, add the yogurt, spices and honey and mix well.
In a dessert glass layer cereals, strawberry pieces, banana cream and repeat until the glass is full (or you run off of stuff!). Garnish with the strawberry slices and sprinkle lightly with ground clove.
* It's more yogurt than I use in my banana cream unsually, but I wanted it very smooth and the color looks better in a parfait.
It's healthy, filling, a little more calories than I usually put on a snack, but a lot less than a big loaf of bread or a huge bag of chips which are my traditional "I'm feeling sorry for myself" foods. Did I mention that it was absolutely delicious?
The bottom line is that living a healthy lifestyle is not an "all or nothing" thing. It's not black or white, it's a mix of colors, nuances, little steps and big leaps, all mixed together. To make this work long term, you have to accept that sometimes the step in a tiny one. That's ok because  if it keeps you from being flung backward, it is still a victory!
That's my story and I'm sticking to it like a loaf of bread sticks to my behind! HA!