Sometime during the holidays a friend invited me to a party at her place and served a potato-cod dish that was delicious. When I asked about it, she said it was made with salted cod. Are you kidding me? Where on earth did you find salted cod? I could not believe it, it had been so many years! Spanish Table is the place! There is one in Marin County and there is one in Berkeley that I know of.
I don't know how well known salted cod is here on the West Coast. In Magdalen Island, where I'm from, it used to be something that every family would have. Heavily salted, the fish would keep for months without spoiling which, in a world before freezer, was gold really. Obviously there were freezers when I was a kid (oh c'mon!) but I still remember having salted cod fish cakes as a kid. Those were traditional really and like the "meat pies" every family had their own recipe for. At the time it was on the cheap side: Mashed potatoes, desalted cod (we'll get to that) onions, there you go! Two things happened that changed everything: 1- with everybody owning a freezer, why would we bother with salting (or smoking*) fish? 2- Cod fishing took a dive in the North Atlantic for several years, the stocks being down dramatically, the quotas all but disappeared. Cod became rare, and pricey and well… too fuffy for salting!
Now, salted cod is inedible. You cannot eat it without first desalting it. Why bother then? Because desalted cod does not taste the same as fresh cod, it just doesn't. There's a dry-ish quality to it that is just different. Once desalted you can do pretty much anything with it, but it's better mixed with something than by itself. If you want a steamed or fried cod filet, get fresh cod (black cod from H&H comes to mind, oh my!) but if you want to make fish cakes, salted cod is really hard to beat! I have been meaning to grab some salted cod for some time and Sunday I happened to be at Spanish Table and just decided it was time to do it! Tomorrow I'm off, I am making fish cakes!
My new obsession is seasonal cooking. I work for the CUESA and am at all 3 Farmer's Market every week. Surrounded by the best and the freshest food in the world, I'd be a fool not to make the best of the seasonal bounty. I wanted to incorporate some market goodness to my fish cakes. Because of that this recipe isn't exactly traditional it's more my spin on something I grew up with. Please nobody send me emails telling me "but you didn't put in browned onions!" or "there is no butter in your potatoes" I know! Try this you won't miss the burned.. huh I mean browned onions or the butter. I promise!
First a few comments on the ingredients I used: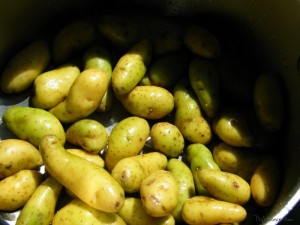 I used fingerling potatoes because I wanted my potatoes to be chunky and have lots of texture to them.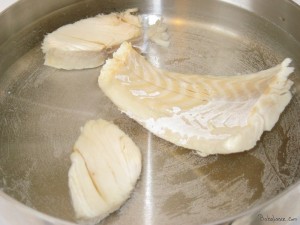 The salted cod comes in packs of 1 lb, I used only half. As long as it's salted, the cod will last for months in the freezer (it will never freeze though!). Once desalted, it last about as long as regular fish.Before desalting, know what you will do with it!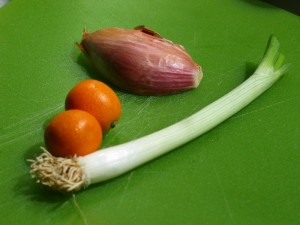 Ok, this is a bit of a cheat because I took the picture before I actually made the recipe. I used only 1 kumquat because I didn't want to overpower the fish with it. I also didn't use the shallot half for the same reason.
I am totally in love with kumquats! I mince them into everything. It just gives this strong but not overpowering citrus flair to any dish. I use very little because it goes a long way.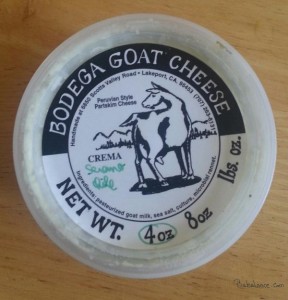 Finally, I used Bodega Goat Cheese serrano cheese. Not a lot, just about 1/2 oz in place of butter in my mashed potatoes. This is the best idea I've had in ages! It was absolutely delicious. It's creamy, it's tasty and the Serrano in there have a humongous bite. Try it, you will not regret it.
Salted Cod Fish Cakes

1 lbs fingerling potatoes (if you don't want skin in your mashed potatoes, use bigger ones and peel)
8 oz salted cod
1/2 oz soft goat cheese with serrano Chile
1 kumquat, minced
1 green onion, minced
Salt & Pepper (careful with the salt!)
1 Egg white
Flour (I measured before and after, used about 1 TBSP total if that much)
Grapeseed oil (I used about 1 1/2 TBSP)
The night before:
Put the salted cod in a bowl with enough water to cover completely and put in the fridge. Change the water a few times until you are ready to use it (I changed it before bed, in the morning, and at noon). You can't eat salted cod without de-salting it first. Desalted cod doesn't taste the same as fresh cod… it's just not the same!
A few hours before serving time (I did that around 2pm):
Put the potatoes in a casserole with enough water to cover and a little bit of salt. Cook 15 20 minutes until fork tender. Drain completely and mash the potatoes (I used a fork to break down the skins too). Add the cheese to the potatoes and mix very well.
While the potatoes are cooking, drain the cod and poach in water for about 10 minutes or until it flakes easily. Once cooked drain and break apart with a fork.
In a big bowl mix the cod, the potatoes, the kumquat and the green onions. Add pepper (and salt if needed, but it shouldn't be really), shape in a big ball at the bottom of the bowl and put in the fridge to rest for a bit.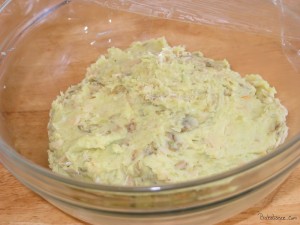 A bit before dinner time:
Divide the potato-fish mix into 6 cakes (I like them rather thin, but it's a matter of taste). Dunk each cake in egg white and dust with flour. Heat up the oil in a hot pan and fry for about 2 minutes per side or until browned and crispy. Serve hot.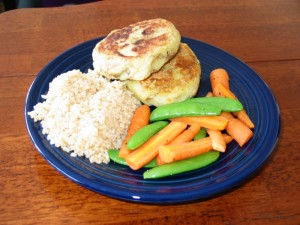 Notes:
Those can be frozen and reheated! My aunt freezes them uncooked and then throws them in the deep fryer. Her's have no cheese in them though.
Those cakes are fairly big, it could easily make smaller cakes or even bite sized ones for appetizers.
You don't have to let it rest between mixing the ingredients and shaping the cakes but I find that it makes them easier to work with.
So there you go! These were absolutely delicious. They made 3 servings (6 fish cakes) and those are big so really it could be 6 servings, but honestly we ate the whole thing in one sitting! It was that good!
Happy Cooking everybody!
* Thankfully a family back home decided to keep the art of smoking fish the "old way". Look here Fumoir D'antan for information about what they are up to!